Read more on YOLO Journal
Bric-a-Brac 42
Designer Nikki Kule's packing tips, a deep dive into the Azores, and a design-focused Dispatch from São Paulo
HOW I PACK
By Nikki Kule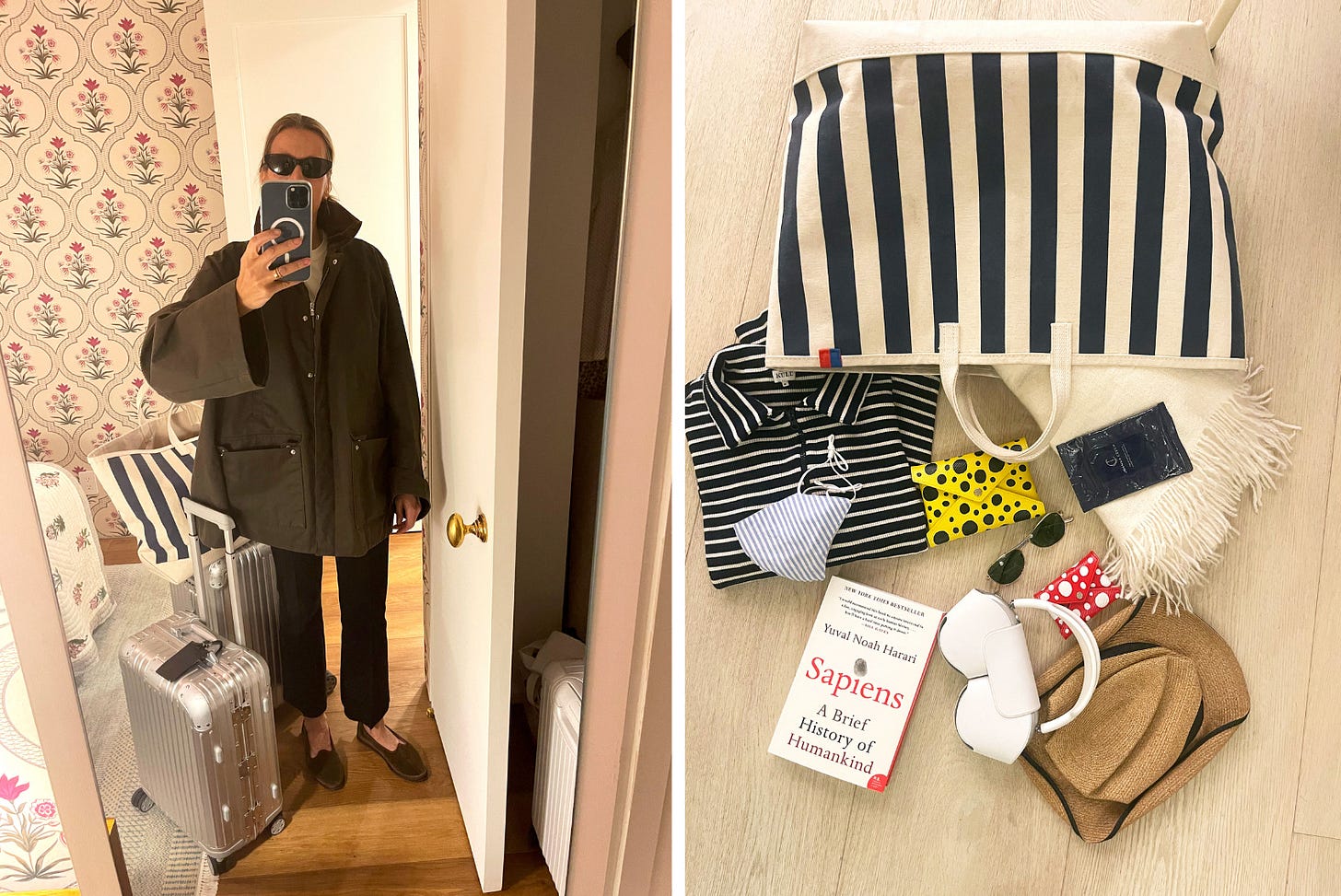 Nikki's eponymous fashion brand Kule is the perfect synthesis of uptown-downtown NYC—classic pieces with a a playful, often colorful twist. I met her through my close friend and Yolo contributor Dewey Nicks, and I'm so happy that she agreed to share her pro packing tips here–I'm copying her workout gear solution immediately! -Y.E.
Go-to luggage?
My favorite suitcase is the RIMOWA Trunk luggage, which I do check. I used to compete with myself to see if I could live off of a carry-on. I love to shop when I travel, so this never works out for me. I now know myself well enough to know that I need to check a suitcase.
How do you approach the basics?
Packing is hard. It takes time. I have to think about how many days I'll be away and try to bring ½ basics and ½ fun, so that I'm still inspired and excited to get dressed. I usually pack a little more within a color story when traveling to cities. When it's a beach vacation, I pack fun patterns, prints (stripes) and some basics. On the plane, I like to look put together. I usually wear layers. I love to wear versatile and super comfortable pants, usually with stretch—I love the new brand High Sport, which are perfect for traveling.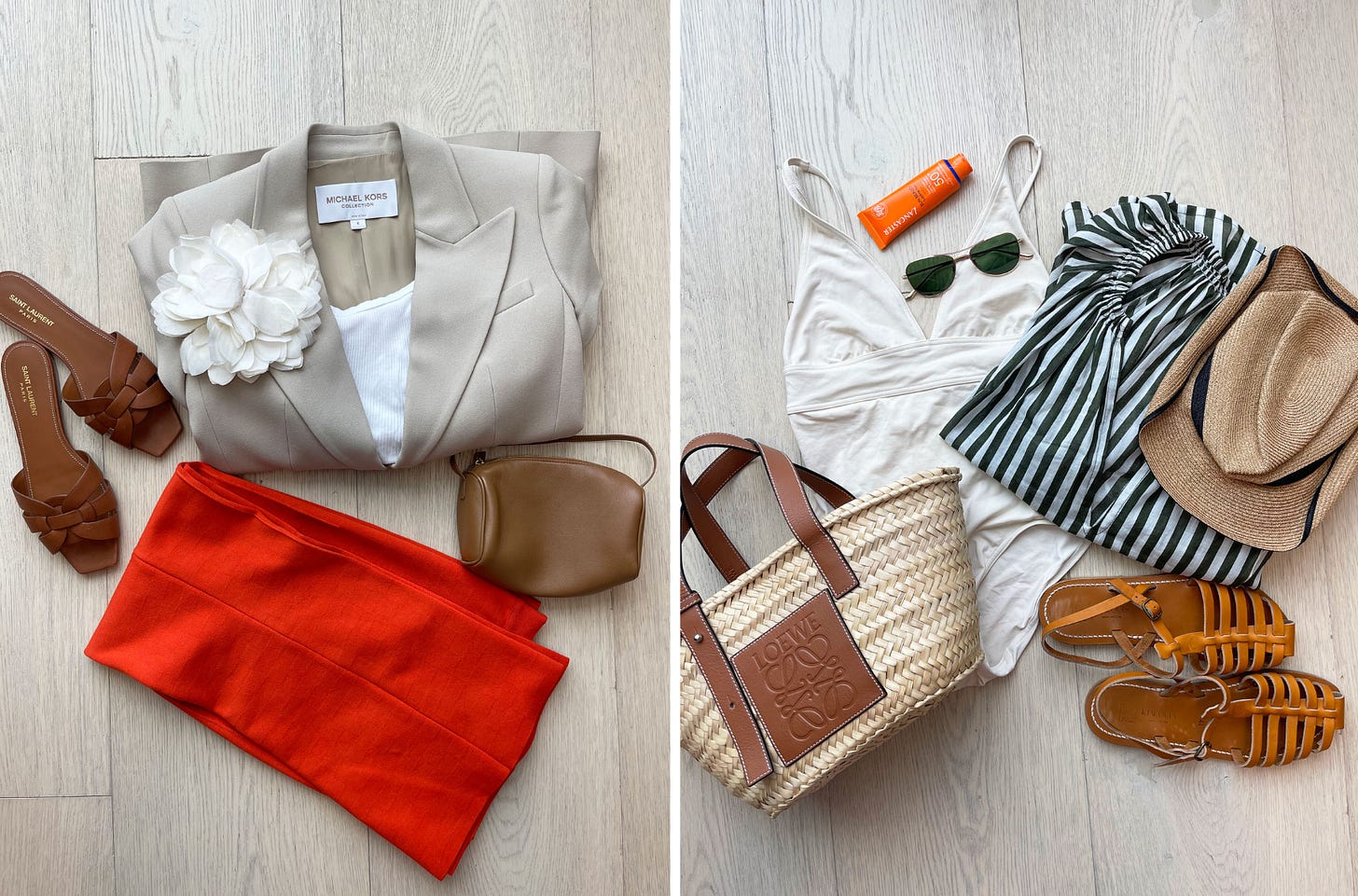 Are you a roller or a folder?
I'm a half and half. I roll to fill the grooves of the luggage so that I create a flat surface. It's really like baking a cake.
Any other packing tricks or hacks?
In summer, I can fit a lot more. When packing for colder situations, I have to choose a couple of sweaters and make sure those items could work together with other things. It's such a science. I love blazers that you can wear as jackets. I try not to pack too many shoes. I try to limit them, because they take up so much room. I would rather have fun clothes than fun shoes. My biggest issue is that I love to run when I travel, so I always have the dilemma of workout gear (running shoes). I strive to find the lightest workout clothes. I'm obsessed with Tracksmith—they make the lightest jacket ever—it could fit in my wallet. And I cannot skimp on the sneakers—I wear these from Brook's Running, and I have been wearing Brooks for years.
What's your shoe strategy?
I love K. Jacques sandals for warm weather—they pack completely flat, are super comfortable, and are versatile but not boring. For colder locations, I pack a pair of loafers and a nice pair of sneakers, like my Spalwarts.
How do you think about accessories?
I'm not really an accessories person, so I don't have to think about it too much :). I do love a black or white flower pin to take a blazer into the evening.
Do you have a great travel hat?
Yes, I do! I have this hat that was given to me as a gift by Michael Kors and Lance LePere. It's a raffia hat that completely flattens. It's genius.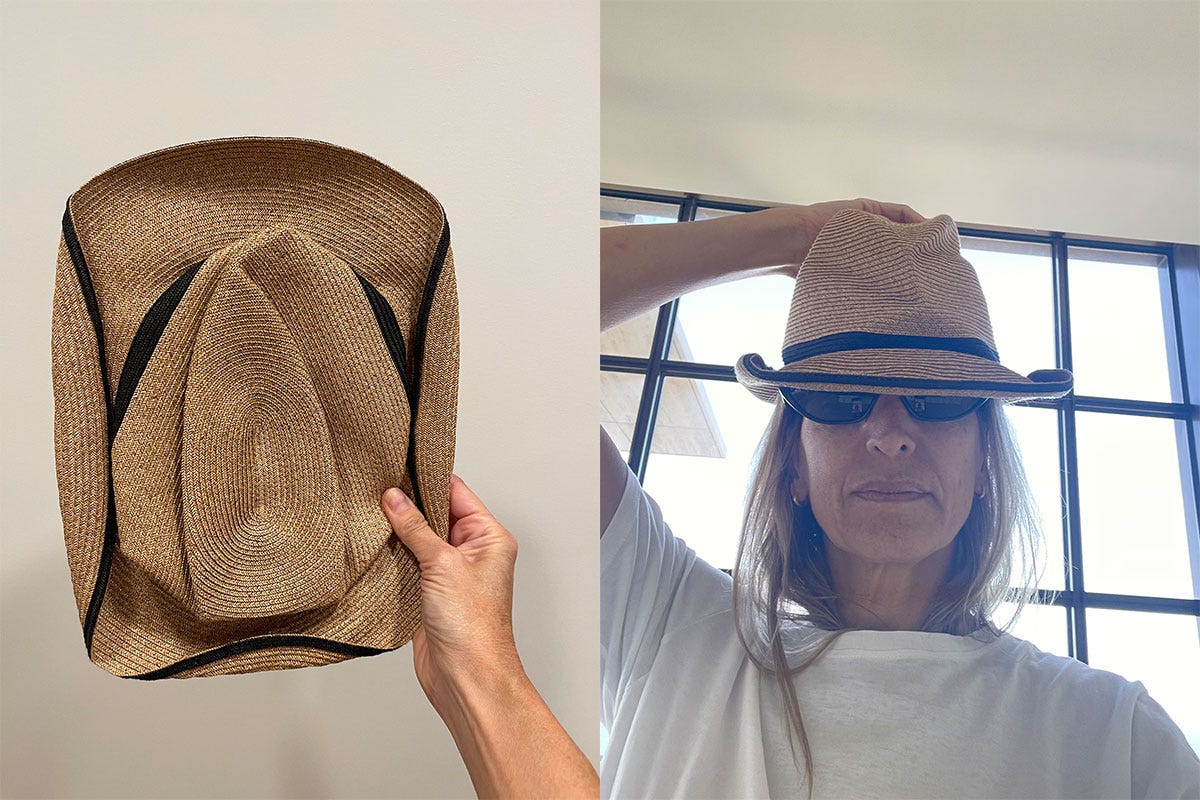 What's always in your Dopp kit/toiletry bag?
I'm not a huge product person, but I always use Shiseido sunscreen moisturizer with SPF. I stocked up on eBay because it's discontinued now! I also love the Barbara Sturm face wash and the glow drops. I love to travel with makeup-removing wipes for quick refreshment throughout the trip. I use them on my face on the airplane so that I land feeling refreshed. I'm careful not to buy makeup with glass/heavy packaging. Pro-tip: get those samples at the counter!
On a plane, what essentials does your carry-on bag always contain?
Face wipes—Joanna Czech makeup removing wipes. I always like to bring my favorite Kule cozy socks and the Apple AirPods Max wireless headphones, and I load up my iPad with tons of good TV shows, movies, and music. I am also always on the plane with Benadryl—you never know if you'll need it (it's happened before!).
Any wisdom on traveling with electronics?
The chargers are getting harder and harder. With so many different Apple chargers, they're no longer using USB, so you have to carry all the extras just in case. I keep them consolidated in a striped Baggu bag.