Read more on The Strategist
10 Things That'll Almost Definitely Sell Out: From Nécessaire to Hellerware
For this week's Don't Dillydally, we've surfaced a range of new things we're sure will sell out — including a Jansport backpack designed for wheelchair users, Nécessaire's new winter skin-saving body cream, and BBQ-flavored popcorn developed by Kelly Clarkson and the Jonas Brothers.
KULE x Madewell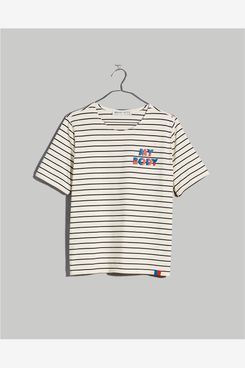 Madewell x KULE Unisex My Body Striped Tee
$75
Not only does KULE make some of the best striped tees for women, but the New York–based brand is also known for supporting reproductive health. Its new collaboration with Madewell commemorates the 50th anniversary of Roe v. Wade, and 100 percent of the purchase price on each piece sold will be donated to the National Network of Abortion Funds.