Read more on The Strategist…
The 13 Very Best Cashmere Sweaters by Arielle Avila
A cashmere sweater is a versatile, durable, seasonless investment that can last decades (as long as you keep the moths away). But choosing the right one can be overwhelming because you're paying a premium price for an inherently luxurious staple. Cashmere comes at a heftier price because cashmere yarn comes from the fluffy undercoat of cashmere goats, which makes for a softer and warmer fiber than sheep's wool. (Fascinatingly, cashmere goats are a type and not a breed; according to the Cashmere Goat Association, almost all goats can grow cashmere, but only selectively bred flocks produce it "in significant amounts.") To help you find the right option for you, we asked experts and sourced our archives for picks in every budget.
Best overall | Best crewneck | Best less-expensive crewneck | Best V-neck | Best turtleneck | Best less-expensive turtleneck | Best striped | Best cardigan | Best plus-size cardigan | Best polo | Best less-expensive polo | Best splurge-worthy fun sweater | Best less-expensive fun sweater
What we're looking for
Size range: In our search for the best, we're looking sweaters with an inclusive range of sizing options.
Style and details: "Your safest bet is to buy something that could have longevity at that price point, as opposed to something that's trend-driven that you might get rid of in a couple of seasons," says stylist Lilli Millhiser. While that's a good general shopping rule, it's especially true when it comes to cashmere since it can get pricey. While most of our picks are classic cuts and neutral colors, we also included options with bolder designs and patterns. Because, as Mina Alyeshmerni of online boutique Maimoun told us, "comfort should also feel sexy."
Price: As we've mentioned, cashmere typically costs more than other natural fibers. Despite that, we've included a range of affordable options that don't sacrifice quality. We denoted the recommendations below as either $ (under $150), $$ ($150–$250), or $$$ (over $250).
Best striped cashmere sweater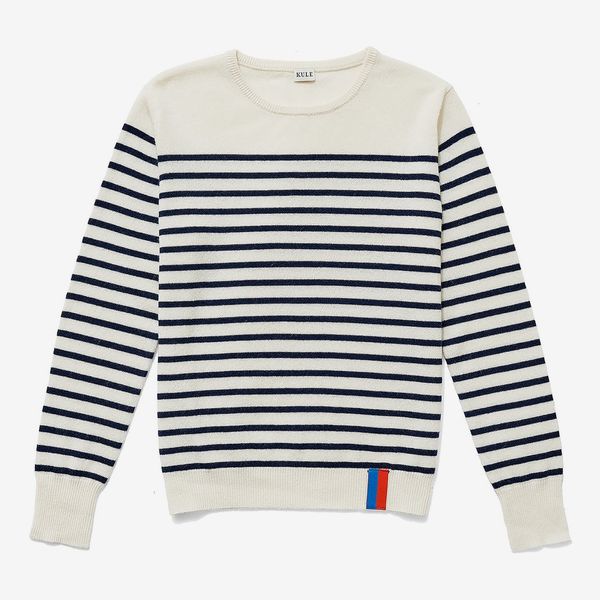 Kule The Sophie in Cream/Navy $298
Sizes XS to XL | Crewneck with stripe design | $$$
After a few of her sweaters "were decimated by moths," former Strategist writer Hilary Reid bought this Kule cashmere sweater on sale for $100. She says it's the "softest, most substantial-feeling cashmere sweater" she owns. It has an "ideal and elusive crewneck fit: It's cut comfortably close enough to wear on its own, but can still accommodate a shirt underneath without looking bulky." Learning from her mistakes, she stored it in "what was essentially a fortress of anti-moth cedar blocks," and takes care of it in the winter by spraying it "between dry cleans with this Laundress wool and cashmere spray."