Read more on Oprah Daily
Chic Button-Down Shirts for Women to Wear Everywhere by Cassie Hurwitz and Sara Klausing
A stylish wardrobe staple for this summer and beyond.
Is there anything quite as classic as a crisp button-down shirt for women? The style comes in nearly every color, pattern, fabric, and cut—from slouchy, oversize versions to crisp white shirts and breezy linen button downs. Plus, button-down shirts can be worn with a ton of different outfits and in a ton of different ways. You can't go wrong by tucking one into a pair of jeans or tailored trousers. Button-downs are fantastic as layering pieces in the summer. Throw one over your bathing suit when you're pool or beachside, or tie it over your shoulders to have as an added layer for strong AC. However you wear a button-down shirt, it's bound to look stylish.
Because there are countless options out there, we've selected 20+ of the best button-down shirts around. The list includes everything—cotton poplin shirts, sustainable linen, and even washable silk. There are a range of fits, too, from tight to fitted to oversize. And some different cuts, like cropped shirts, and short sleeves button down tops.
Read on for our favorite button-down shirts for women to wear this summer and beyond.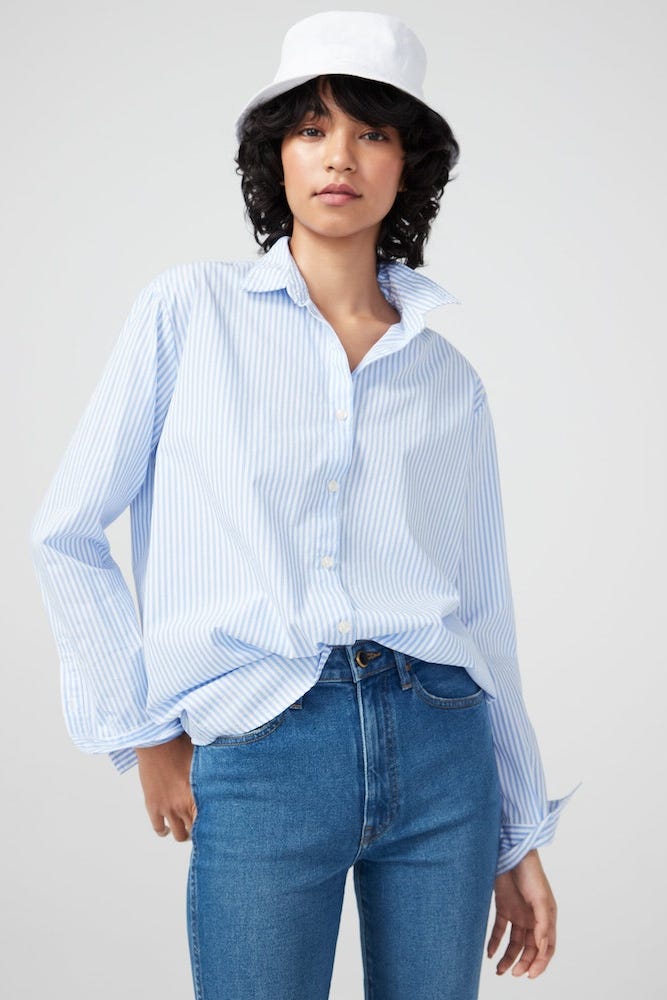 18
Kule The Hutton Oversize Shirt
$228 AT KULE.COMCREDIT: KULE
Oprah-favorite brand Kule's take on the button-down shirt is this classic, oversize cut. It's 100 percent cotton and borrows its style from men's shirting, meaning it'll have a polished, crisp feel with a slouchy, relaxed fit. Best of both worlds, if you ask us.