Read more on The Cut…
Hey Fashion Friend: I Want a Status Beach Towel by Emilia Petrarca
Last weekend, it was so hot I felt like I only had two choices: Stay inside in the air conditioning or get my butt to the beach. I chose the latter, and was happy I did, but it made me take stock of my beach-towel collection again. I've spent a good amount of time and energy cultivating a solid bathroom-towel situation. (I have these because they dry quickly.) But because I only go to the beach a few times a year, I care less about what I'm bringing to dry off. It makes sense, but the more I thought about it, the more I felt like that was maybe an oversight on my part.
Beach towels are big; they take up a good chunk of space in my apartment. I lug them all the way out on the A train every time I go to the Rockaways. And they can say a lot about a person.
Why not just get one that I really like? Then I never have to think about it again, and I will feel impressive every time I do a dramatic rollout when I arrive. When I mentioned this to my colleagues, they perked up. "I saw someone with a coral-colored Chanel beach towel this weekend and it made me reconsider my whole life," one person joked. While Chanel might be a little out of my range, below are some options that I think would make a splash.
If You Want to Wear Your Towel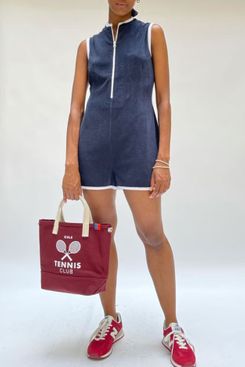 If you like to do physical activities before you jump in the water, or want to look like you're into that sort of thing, this jumpsuit seems tennis-adjacent. (I've never played tennis.) $178 AT KULE